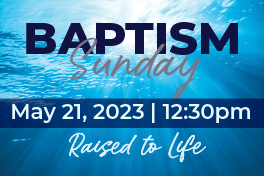 It's almost time to be baptized! I'm so excited for you to share this outward expression of your inner commitment to Christ.
Here are some important instructions for your baptism experience on Sunday, May 21, 2023 at 12:30pm:
Please arrive at the church at noon, and check-in with Pastor Keeley in the sanctuary.
Wear dark-colored clothing for your time in the pool (no light-colored clothes).
Bring a towel and a change of clothes.
Invite your friends and family to share with you in this step of faith.
Feel free to bring a camera.
We will gather for a pre-baptism meeting where you will get important information and pray with others before the event.
I'm excited about your decision, and I want to make this experience as smooth as possible. If you have any questions, please feel free to call or email me.
Pastor Keeley B.
(925) 305-5528 x103